Gondola Shelving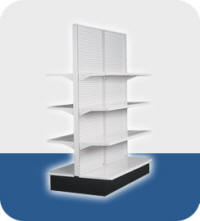 Provides merchandising or the display of products on both sides of the shelving fixture. Is generally placed in the middle of the store.
---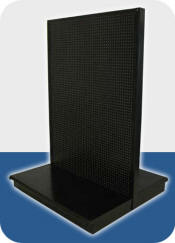 Next to the Beige or Off White color the black is a very popular shelving style that will create a look and feel for most any store.
---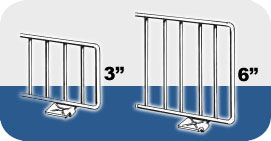 Upper and base shelves typically provide 4 rows of holes for fences and dividers. 2 rows in the front of the shelf and 2 rows of holes on the back of the shelf, 1 inch on center
---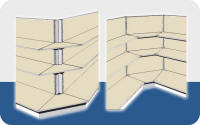 Configured as an outside and inside corner section tailored for most any size wall or half gondola.
The outside corner can be utilized on a customer counter configuration using a double sided gondola fit up to a single sided gondola.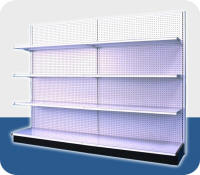 Provides merchandising or the display of products on only one side of the shelving fixture. Is generaly placed up against and otherwise useless wall.
Can also be used as an end cap in a double back configuration.
---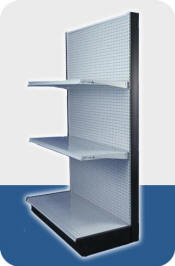 The most effective and economical End Display for Gondola Shelving is with the use of a single sided section with a peg back in the front and a solid back in the back of the unit. This configuration will provide the safe sturdy display Gondolas are known for. We also have then End Frames available.
---
Lots of accessories available for Gondolas. Some of the more popular accessories are for snacks, candy, chips, and sodas, hangrods for clothing, nail, and nut bins, shelf canopy systems with lights, a racking system for larger heavier items, and casters
---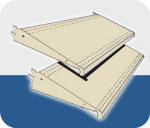 Upper shelves are constructed of all steel and basically the same as base shelves with a little mounting system. Available in depths of 8 inches to 30 inches and widths of 24 inches, 36 inches, and 48 inches.
---
Wiki Gondola Shelving